Impact Story: Jason Davidson
October 1, 2019
Jason Davidson, Grateful for Firefighting Training He Received at Sierra College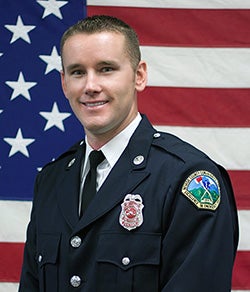 Jason Davison is Captain of the Nevada County Consolidated Fire Department, and a Sierra College 2006 alum.
"In my line of work, giving back to the community is part of the job," he said. "It's also part of who I am."
He added, "Being a Colfax High School graduate, I, like thousands of other high school graduates in our region, have benefited from a Sierra College education."
Grateful for the Fire Technology training he received at Sierra College, he is giving back through SCF Gives, which is Sierra College Foundation's initiative to address the greatest needs on campus.