Impact Story: Jason Loscalzo
October 1, 2019
Jason Loscalzo, Proud Alumnus is now Head Strength and Conditioning Coach for the Chicago Bears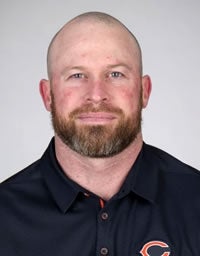 When Jason Loscalzo graduated from Golden Sierra High School in the '90s and began gearing up for the next stage in his life, he said that while he couldn't afford a 4-year college, his parents encouraged him to enroll at Sierra College.
"My brother went there, and I wanted to play football," he said. "It just made sense."
Jason played fullback for Sierra College for a few years, then he went on to Humboldt State where he earned his bachelor's degree in kinesiology in 1999. In 2001, he earned a master's in athletic administration from Nevada.
From there, he went on to a successful 21-year collegiate career as a strength and conditioning coach with Washington State (2012-17), Boston College (2007-11), Auburn University (2003-06), Marshall (2001-03), University of Nevada, Reno (1999-01) and Arkansas (1999).
Today, Jason is beginning his second year as the Head Strength and Conditioning Coach for the Chicago Bears, but looks back fondly on his days at Sierra.
"I'm still in touch with some of my Sierra teammates," he said. "We played under Rex Chappell."
Sierra College was a great first step for Jason and prepared him for a four-year school.
"I had the same education at Sierra that I received at Humboldt State, and the best part is that I graduated without taking out a loan." He added, "School is what you make of it. The important part is having your name on a diploma."
We applaud Jason on his impressive accomplishments. His success is an inspiration to the thousands of students preparing to begin their college career at Sierra.
Jason and his wife, Nicci, have two sons, JP and Luke, and one daughter, Gianna.