Impact Story: Richard R. Nelson
October 1, 2019
Former Student Pays It Forward Through Annual Scholarship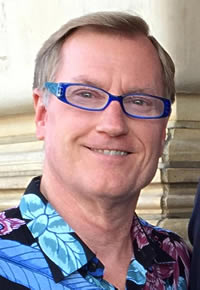 As Rick Nelson tells the story, he "won the lottery" when he received several scholarships that helped him attend Sierra College after graduating from Roseville High School in 1973.
At the age of 10, Rick's father passed away. As the eldest of three children, Rick worked numerous jobs before and after school to help his mother and sisters. No one in his family had ever gone to college, but when he was finishing high school, several local service clubs offered him scholarships, and he jumped at the chance.
After earning an Associate's degree from Sierra College, he went on to BYU where he earned a degree in Business, and eventually had a very successful, 30-year career with Morgan Stanley.
Rick recognized the incredible value of his original scholarships.
"Two of my scholarships were for $500, which was a lot of money to me back then. But really, it was worth so much more than that," he recalled. "What they gave me, what came out of my education – it saved me. And I wanted to help other students the same way someone once helped me."
In 1999, Rick and his wife, Sandi, began awarding the Raymond S. Nelson Memorial Scholarship (named after his father) to Sierra College students. He personally reads every application and is always looking for ways to make a positive impact on each student.
Looking back over the years, the Nelsons' estimate they have awarded nearly 100 scholarships to deserving and financially disadvantaged students. Many of these students continue to write thank you letters expressing a strong desire to do the same to help future students when they are financially in a position to do so.
We applaud Rick's selfless dedication to helping others. He knows the true meaning of "paying it forward." He is not only a notable alum but continues to empower many other students to benefit from Sierra College.