Sierra College Men's and Women's Aquatics Dominate at State Level
May 13, 2022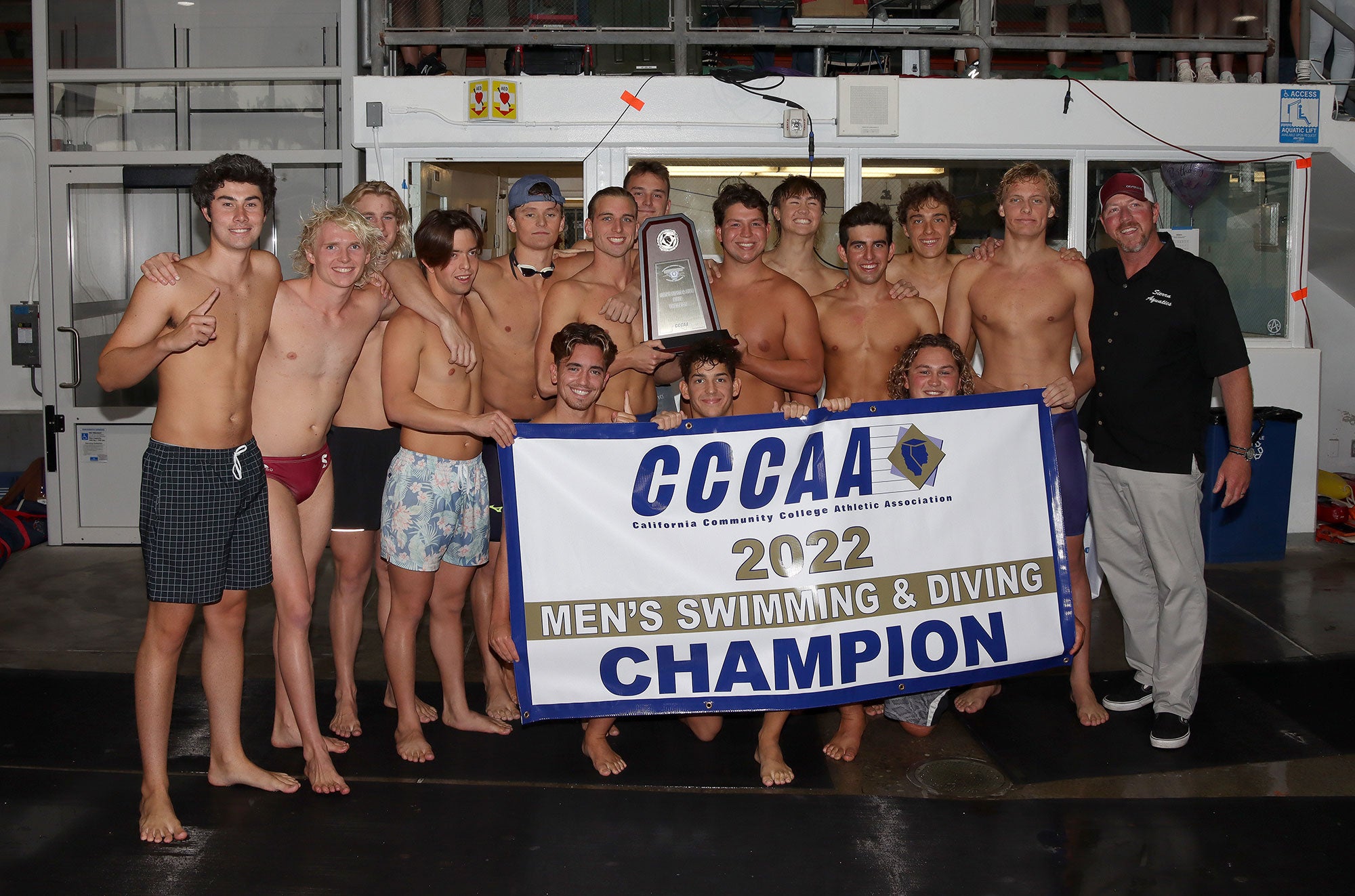 Men's Swimming and Diving Win Sierra's First Back-to-Back State Championships and Women Finish First in NorCal and Second in State
Sierra College Aquatics capped off an extremely successful season with a Men's State Championship and Women's State Runner-up. On their way to the State Championship, the Sierra College Men finished the regular season with their fifth straight Big 8 Conference title. The conference meet was highlighted by Jake Reuter winning three events and setting a conference record in the 200 Individual Medley, Tommy Collins winning his three events and setting a conference record in the 200 Butterfly, and Evan Terry's three event wins while also setting a record in the 100 Backstroke. Performance of the Meet honors went to Andrew Espinosa who won the 100 Freestyle in the time of 45.34.
"These young men are an exceptional group," said Chris Breitbart, Sierra College Men's Swimming and Diving Head Coach. "They found a way to win races that seemed out of touch. This team is fearless when it comes to racing."
Andrew Espinosa set the tone in the first final when he anchored the 200 Freestyle relay with a 19.9 relay split to pass Orange Coast for the first win of the meet. Jake Reuter followed suit, winning all three of his events at the state meet and being named CCCAA (California Community College Athletic Association) Co-State swimmer of the year. Individual event winners also included Andrew Espinosa (100 Freestyle and 200 Freestyle) and Evan Terry (100 Backstroke). Sierra also triumphed in both the 200 and 400 Medley Relays.
The 2022 Sierra College Men's Swimming and Diving State Champions:
Jake Reuter: All-American, 6x State Champion, CCCAA Swimmer of the year
Andrew Espinosa: All-American, 5x State Champion
Evan Terry: All-American, 4x State Champion
Caleb Tracy: All-American, 2x State Champion
Tommy Collins: All-American, State Champion
Aiden Thompson: All-American, State Champion
Jacob McCormick: All-American
Keven Sahs: All-American
Joshua Smet: All-American
Wyatt Sommers: All-American
John Torres: All-American
Trayton Heinzen: All-American
Charles Fleming: All-American
Christopher Gholso: All-Conference
Mathew Crouch: All-Conference
Joseph Holloway: All-Conference
Hayden Kapanen: All-Conference
Joseph Pardini: All-Conference
Zachary Hauptman: All-Conference
Jacob Pfanenstiel
Nathaniel Johnson
Johnathan Frink
Derek Daly
Ethan Dwork
Filip Crnogorac
Benjamin Wiborn
Sierra College Men's Swimming and Diving is led by head coach Chris Breitbart and assistant coach Bruce Hastie. Scott Decker is the head coach of Sierra College Women's Swimming and Diving, Kelsey Carrigan is the assistant coach, and Kari Elliott oversees the divers.
"These are the first back-to-back state championships in Sierra College history," said Rachel Johnson, Sierra College Dean of Kinesiology and Director of Athletics. "Coach Breitbart did a fantastic job in keeping our student-athletes engaged and focused on the goal of winning it all."
Of the Women's State Runner-up finish Johnson said, "I am extremely proud of our Women's Swimming and Diving team. They battled through adversity for the entire 2021-22 season and school year, and this is the result of their hard work, and perseverance. Our Women finished 2nd place in the extremely competitive Big 8 Conference and topped that with a 2nd place finish at the 2022 State Swimming and Diving Championships, finishing 1st from Northern California.
"For our program to accomplish this, it took a complete team effort from all our women athletes both at the Conference Meet and the State Championships. They continued a tradition of finishing in the Top 8 at the State Championships for the 19th straight year. Wolverine Pride has never been more on display than through the efforts of these young women this season."
The 2022 Sierra College Women's Swimming and Diving State Runner-ups:
Camryn Bussey: 100 Freestyle State Champion, CC All-American
Kaleyah Calhoun: State Meet Participant
Logan Cherry
Sage Crews: State Meet Participant, CC All-American
Ashley Darr
Kristin Dugdale
Arabella Fannin
Sierra Gartrell: State Meet Participant, CC All-American
Hope Grantham
Sara Hadj-Bahramiyan: State Meet Participant
Shay Hanson
Allison Harrington: State Meet Participant, CC All-American
Bella Katapodis: State Meet Participant, CC All-American
Sarah Mudd
Laurel Plewe: State Meet Participant, CC All-American
Piper Rea: State Meet Participant, CC All-American
Darienne Sandhu
Kelly Swift
Kimmy Tiss
Nately Wareckiy-Cabreros
Isabella Wilhelms: State Meet Participant, CC All-American
About Sierra College
Sierra College District is rising to the needs of our community. Sierra College serves 3,200 square miles of Northern California with campuses in Roseville, Rocklin, Grass Valley, and Truckee. With approximately 125 degree and certificate programs, Sierra College is ranked first in Northern California (Sacramento north) for transfers to four-year universities, offers career/technical training, and classes for upgrading job skills. Sierra graduates can be found in businesses and industries throughout the region. More information is at www.sierracollege.edu