Sierra College Breaks Ground on First Measure E Facilities Improvement Project
November 15, 2019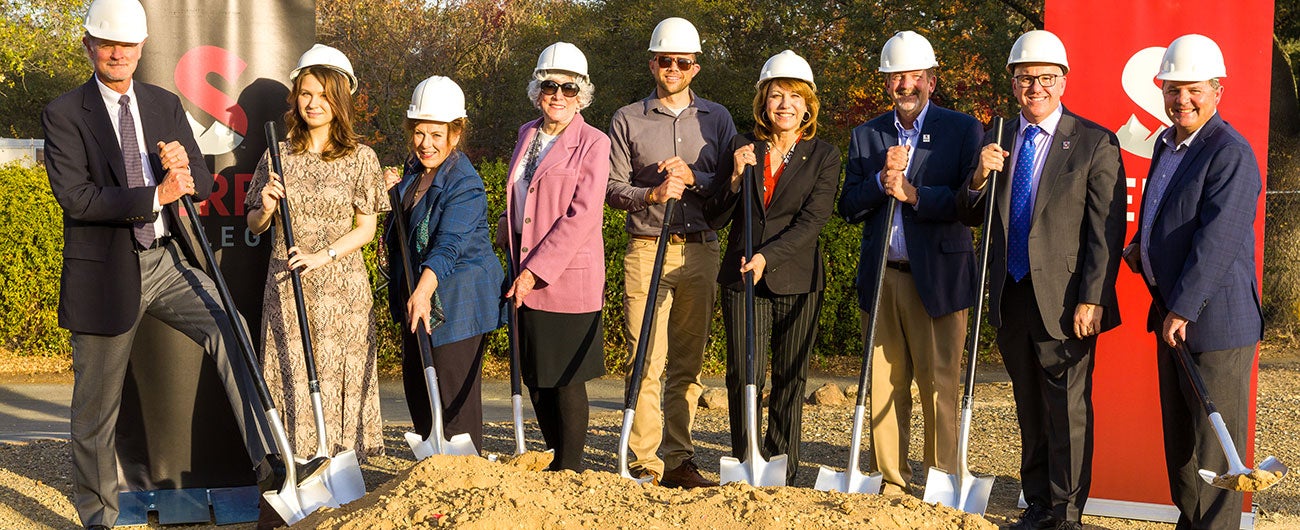 Planned Parking Garage Adds 1,500 Spaces to Ease Student Parking & Improve Traffic Flow
Sierra College today broke ground on the first of many projects made possible through the support for Measure E. The new parking garage will help address the need for more parking on the Rocklin campus and improve traffic flow in the areas surrounding campus. Construction began with a ceremonial groundbreaking led by the Sierra College Board of Trustees. When complete, the project will add 1,500 new parking spaces to the Rocklin campus.
"This first project is the first of many supported by Measure E and represents why it's important as much of the campus and infrastructure was constructed in the 1960's," said Willy Duncan, Sierra College Superintendent/President. "A lot of things have changed since then, and much of what was originally built has served us beyond its planned life, and now we can build with confidence with the latest planning, technology, and security."
This facility will be located on the Northern edge of the developed campus, accessed from Sierra College Blvd. A significant amount of Campus traffic will shift from the entrances on Rocklin Road to the Sierra College Blvd entrance improving traffic flow on the surrounding roadways.
This project is funded by Measure E, which was approved by voters in 2018. Measure E is a demonstration in the vote of confidence in the future of the community, and the future of Sierra College. Sierra College is using the funds provided with Measure E as a base and, along with state facilities bond funds, and other funds from our strong fiscal management updating our campus with new facilities to keep pace with the workforce training and education needs of our community.
When possible, Sierra College will be using local construction partners in the project including McCarthy Building Companies, Inc., the oldest privately held national construction company in the country – with more than 150 years spent collaborating with partners to solve complex building challenges on behalf of its clients.
About Sierra College
Sierra College District is rising to meet the needs of our community. Sierra College serves 3,200 square miles of Northern CA with campuses in Roseville, Rocklin, Grass Valley, and Truckee. With approximately 125 degree and certificate programs, Sierra College is ranked first in Northern California (Sacramento north) for transfers to four year universities, offers career/technical training, and classes for upgrading job skills. Sierra graduates can be found in businesses and industries throughout the region. More information at www.sierracollege.edu.