Sierra College and Partners Promote Manufacturing in October
October 7, 2019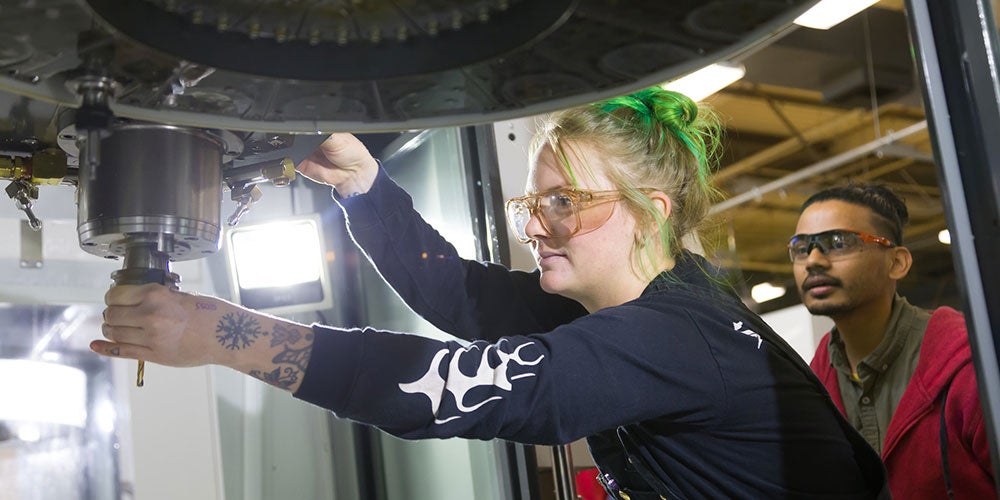 Sierra College, California Manufacturing Technology Consulting® (CMTC), the Sacramento Valley Manufacturing Initiative (SVMI), SME Sacramento Valley and other industry partners are joining manufacturers and educators across the country during the month of October for Manufacturing Month to promote modern manufacturing and the highly compensated career opportunities in this field.
The Sierra College Nevada County campus, in partnership with CMTC, the Nevada County Tech Connection (NCTech) and the Nevada County Economic Resource Council, will host a Manufacturing Expo on October 18 from 9:30 a.m. to 12:00 noon in the multi-purpose room. "Sierra College faculty members will be on hand to describe our advanced manufacturing programs, as well as CMTC and employers," said Nevada County campus Executive Dean, Stephanie Ortiz. "Sierra College graduates have been very successful in securing local employment."
Manufacturing Expo attendees will learn about the many career opportunities in manufacturing according to Mike Bell, the Northern California Regional Director for Advanced Manufacturing Employer Engagement based at Sierra College. "In the greater Sacramento region, there are over 2,700 manufacturing companies employing over 41,000 people," he noted. "These manufacturers produce everything from automotive, high tech and aerospace components to food sent worldwide and micro parts for medical devices." The Manufacturing Expo will be held on the Sierra College Nevada County campus, located at 250 Sierra College Drive, Grass Valley and there is no charge to attend. For more information, go to creatorswanted.org.
To introduce over 1,500 high school students to opportunities in manufacturing and other fields, Sierra College held a Career Technical Education Day at the Rocklin campus on October 4. On Saturday, October 12, the Rocklin Mini Maker Faire (rocklin.makerfaire.com) will take place on the Sierra College Rocklin Campus. The Mini Maker Faire will offer hands-on activities including 3D printing (additive manufacturing), textile fabrication, coding, soldering, robotics, welding and science that will introduce children and adults to design and production tools used in manufacturing.
Dean Peckham, SVMI Executive Director commented, "Industry representatives and educators are working closely together to promote opportunities in advanced manufacturing. Our members have a great need for CNC operators, fabricators and technicians as well as other manufacturing occupations." Members of SVMI developed the pre-apprenticeship CNC training held at the Sierra College Gene Haas Center for Advanced Manufacturing by Design on the Rocklin campus. "Education is the key to promotional opportunities for current employees within a company as well as introducing prospective employees to the industry," he added.
Employers involved in Manufacturing Month include CERATIZIT Sacramento, Titans of CNC and TPx Datacenter, among others. The 2019 Central Valley Clean Tech Showcase will be held in Sacramento on October 9. Valley Vision, SVMI and SME Sacramento Valley will also be hosting events and offering tours and speakers to high schools. SME has published a list of activities: sacvalleysme.org/events.
About Sierra College
Sierra College District is rising to meet the needs of our community. Sierra College serves 3200 square miles of Northern CA with campuses in Roseville, Rocklin, Grass Valley, and Truckee. In addition to offering 126 degrees and certificates, Sierra College offers career/technical training, and classes for upgrading job skills. Sierra graduates can be found in businesses and industries throughout the region. More information at www.sierracollege.edu.