Roadtrip Nation's Roadmap to Careers Kick-Off
November 20, 2019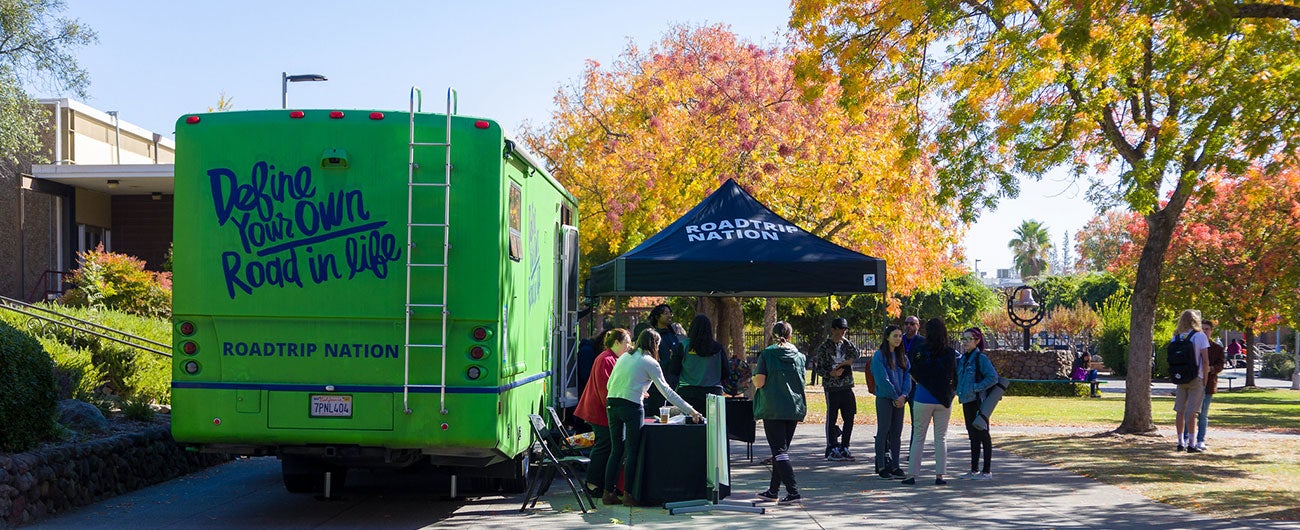 Written by: Christine Kay
Discover Careers That Match Your Interests Using Sierra College's New Career Exploration Tool: Roadtrip Nation
"What's your dream job?" is the first thing Roadtrip Nation (RTN) roadie Alli Brinkerhoff asks students as they curiously walk up to Roadtrip Nation's giant green-painted RV.
When asked why she wanted to be a Roadie for Roadtrip Nation, Alli, who is a 2015 Brigham Young University graduate said she experienced a pivot in her career and wanted to be more creative. Hopping on the road to help other students made for a great transition to something she already enjoyed doing, which was helping people.
Cautiously, Sierra College students peek inside the RV while the RTN Roadies happily wave them in. Everyone wants to know what it's like to live inside an RV full time. Inside the RV it's surprisingly very clean and orderly for having 4 people living in and traveling from college-to-college for six-weeks.
Inside, the walls and ceilings are scrawled and decorated with motivational quotes and sayings from influential industry leaders the Roadies have interviewed, as well as past roadies that pass on words of wisdom for the future travelers. Alli mentions that the ceilings are reserved just for the leaders. It's very motivating for students and Roadies alike to look up and see the quotes and funny anecdotes every day.
What is Roadtrip Nation?
Roadtrip Nation is a non-profit organization partnered with the Chancellor's Office and California Community Colleges to offer career exploration resources to students. Their goal is teach students that you can indeed follow your interests and build a life and career around it. Students are encouraged and invited to sign up and create an account to use Roadtrip Nation's career exploration tool, Roadmap to Careers, to input their hobbies and areas of interest. They are then able to discover the different kinds of careers that can be fueled by their interests. Students also have the opportunity to see first-hand interviews of famous leaders and professionals in different industries, (Michelle Obama and John Legend to name a few) and to see their road on how they got to their current position.
Roadtrip Nation was first started in 2001 by former college students Nathan, Mike, and Brian who struggled to find their path after graduating college. They bought a mechanically questionable RV, painted it green, and decided to travel the country asking people who do what they love how they figured it all out.
Sierra College Chosen for Roadtrip Nation Stop
This particular RV (they have several that travel all over the US) is on a Community College Tour. Eighteen out of 115 California Community Colleges have been chosen and selected for this visit.
"Your faculty and students have been very attentive, engaged, and excited to have us here," said Rodney, another one of the Roadtrip Nation patrons mentions about Sierra College's community.
Rodney shares they are there to help students and to preach the Roadtrip Nation gospel
"Success is an on-going process," he said.
A take-away from speaking with Alli and Rodney is that they hear from students all the time how cool it is to discover this career exploration tool. A lot of students come to realize there are careers that exist that they had no clue even existed. They tell students, if you have an interest—do it! A philosophy they follow from their Founders is "Let Go, Define and Become." As in: let go from the pressures of outside society, whether it be from family or friends; define what you want to do and what interests you; and, become what you want through networking and hard-work.
Alli ends our friendly visit with this: "You define your own road."
With Roadtrip Nation and the helpful Roadies, students are able to take bite-sized steps to get to their dream jobs.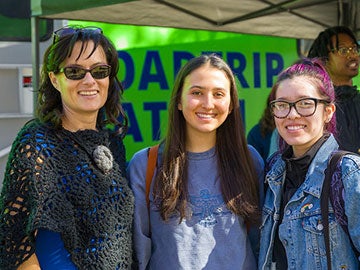 Ready to Hit the Road and Start Exploring?
To get started, learn more about Roadtrip Nation's Roadmap to Careers or log into your mySierra account, visit the "Discover Careers and Salaries" tab, and select "Roadmap Nation's Roadmap to Careers" link.