Sierra College Recognizes and Honors the Service, Sacrifice, and Commitment of Veterans
November 12, 2021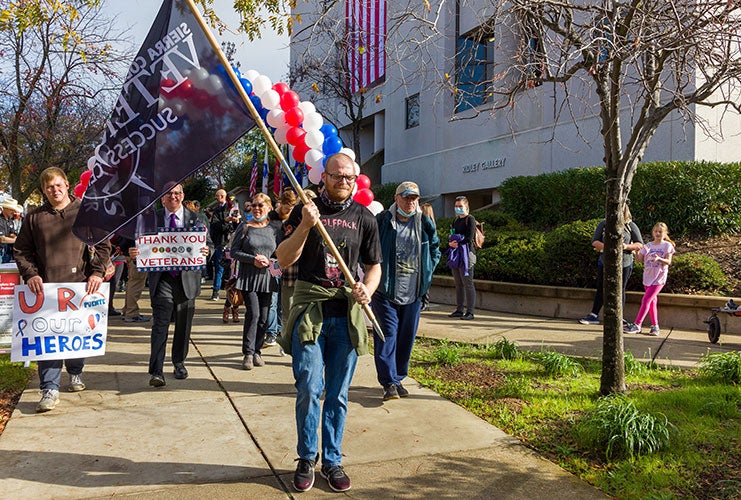 Focus on Veteran Mental Health, Suicide Awareness
Written by: Ashley Blake
The Sierra College community gathered in the quad on November 10, 2021 to recognize and honor veterans and bring attention to the issues of veteran mental health and suicide awareness. The Sierra College Veterans Success Center organized the event which included remarks from Assemblymember Kevin Kiley, Sierra College Superintendent/President Willy Duncan, and Scott McNutt, and Nicky Riley who both spoke of recent losses of veterans in their lives.
Each of the speakers shared personal stories of people from their life who served. Scott McNutt, a Sierra College student, shared how he lost his father Master Chief Petty Officer Navy Seal Douglas Jack McNutt last September, and Sierra College employee Nicky Riley shared the story of Jessica "Jess" Trabakoolas who was part of the Sierra College community and lost her life on October 30, 2021, after a long battle with PTSD and depression.
Dawn Smith of the Veterans Administration then shared with the group the mental health resources available to veterans and Daymian Helms of the Veterans Success Center, invited everyone to join together and "Walk a Mile in Their Boots," in symbolic solidarity with the daily struggle many veterans go through.
Contact the Veterans Success Center via email at veterans@sierracollege.edu or by phone on the Rocklin Campus at (916) 660-7470 or Nevada County Campus at (530) 274-5303.