Sierra College Showcases Innovators at i3 Student Showcase and Celebration
December 14, 2021
Written by: Sierra College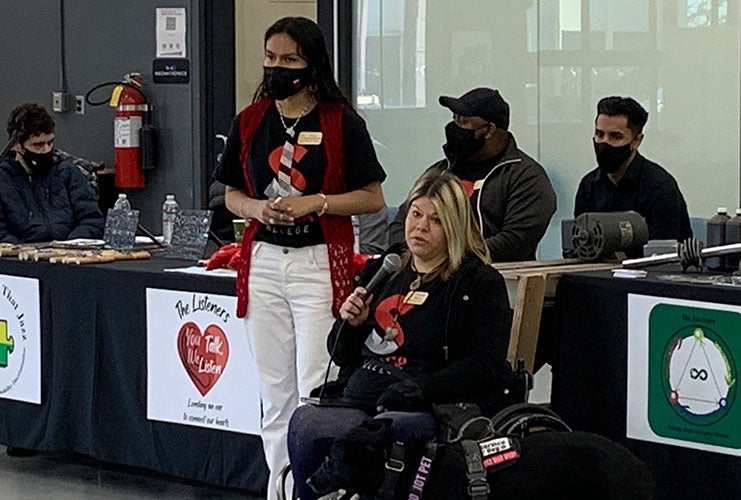 Sierra College Showcases Innovators at i3 Student Showcase and Celebration
On Friday, December 10, 2021, the Makerspace at Sierra College became the center of innovation and change in California when it hosted the i3 Student Showcase and Celebration event.
The centerpiece of the event was presentations by the pilot Invention and Inclusive Innovation (i3) cohort at a student showcase.
Sierra's pilot cohort enrolled in 3 classes that integrate specific skill sets: Social Entrepreneurship, 21st Century Skills, and Rapid Prototyping. The exciting finale of the semester was four unique team presentations, each addressing a special community need or social venture.  The cohort was led by an interdisciplinary team of educators and included Lynn Harrison-Benevidez from Mathematics, Jesus de la Torre from Welding and Denise Bushnell from Business.
The presenting teams were:
"Paws for Nature," with Amanda Barnes, Emma Beltran Gonzalez, and Sophie the service dog;
"Rock and All That Jazz," with Nicolas Epstein, and Christopher Vives;
"The Listeners," including Mike Jackson, Luis Antonio Carreon Hernandez, and Daniel Zaragoza; and
"The Eco-teers," made up of isa Cook, Samantha Reichenberger, and Quintin Winbush.
The i3 program is a collaboration between the Chancellor's Office and the Lemelson-MIT Program, modeled after the Lemelson-MIT InvenTeams. The InvenTeams are groups of high school students, educators, and mentors that invent technological solutions to real-world problems of their own choosing.
The InvenTeams initiative has been changing teaching and learning and providing young people with creative problem-solving skills to flourish in college and career for over 15 years, including having received patents for their high school projects. View a full list of InvenTeams.
Sierra is one of only four @californiacommunitycolleges in partnership with Lemelson-MIT to offer this program which invites students into the world of social entrepreneurship and innovation while helping them grow their workforce readiness skills.
More information about the i3 program at Sierra College can be found at sierracollege.edu/i3.