Sierra College Student, US Navy Veteran Heads to Ivy League
June 15, 2020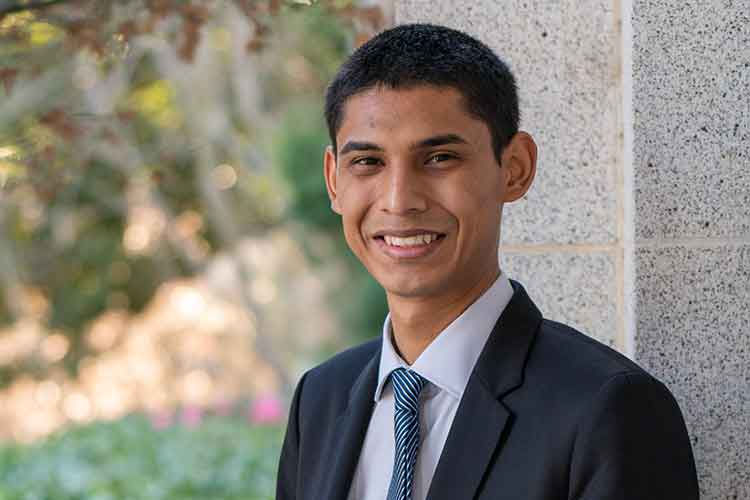 Written by: Brooke Leedy
Mission Accomplished
After only one year as a student of Sierra College, 23-year-old, local Antelope, California resident, and veteran of the United States Navy, Gabriel Godines, is officially Ivy League bound.
Gabriel's story is one of exceptional focus. After four years of military service, Gabriel put all his attention into academics and formulated a new mission for himself.
As Gabriel explains it, "When I transitioned from the military to college I wanted to shoot for the stars and in my mind that was the Ivy Leagues."
With extreme drive, determination, and focus, Gabriel accomplished his goal and was accepted into the fall semester at Cornell University, a private Ivy League research university in Ithaca, New York.
Gabriel credits Sierra College's Writing Center as his best utilized resource, pursuant to his two writing tutors, Ms. Marvin and Ms. Lorraine, and mentor, Professor Andrea Neptune, who assisted Gabriel with numerous assignments, as well as his transfer essay.
Impressed with Gabriel's 4.0 GPA (both overall and in his major), energetic but mature personality, ability to articulate, stay organized, and contribute insightful class participation, Mr. Tamir Sukkary, M.A., Gabriel's Political Science 1 (American Government) professor, recommended him for an internship at the state capitol. Gabriel was chosen for the position. He recently worked on a successful Sacramento City Council race and is currently interning for a state assemblymember.
Once he transfers to Cornell, Gabriel intends to major in Government and is planning on taking advantage of internship opportunities presented there. Contingent upon COVID-19 restrictions, Gabriel is planning to move to New York and live in the dorms. If fall instruction remains online-only, Gabriel will stay local and maintain his current internship.
Congratulations and a job well done to our fellow wolverine. May his admirable focus and hard work be an inspiration to us all!
Mission accomplished Gabriel.