Student Tech Support
Technology Help and Support Resources
Student Tech Support provides FREE assistance and service for all Sierra College students in accessing and successfully using Sierra College technology. Our knowledgeable and friendly team members are available to provide support via live chat, email, Zoom and 15-minute appointments in Sierra Connect.
Acceptable use and prohibited conduct. Please review the Computer and Network Use Board Policy 3720.
How We Can Help
We can help you with Sierra College technology to access and navigate:
mySierra
Canvas
Sierra Connect
Microsoft Office 365
Remote computer labs
Troubleshooting issues with your personal device, but if it requires repair, replacement or virus recovery, you will need to contact a local service provider
We are not able to assist with registration related issues, coursework or personal device repair. For registration issues, contact Admissions and Records and for coursework assistance, contact our Academic Support Services.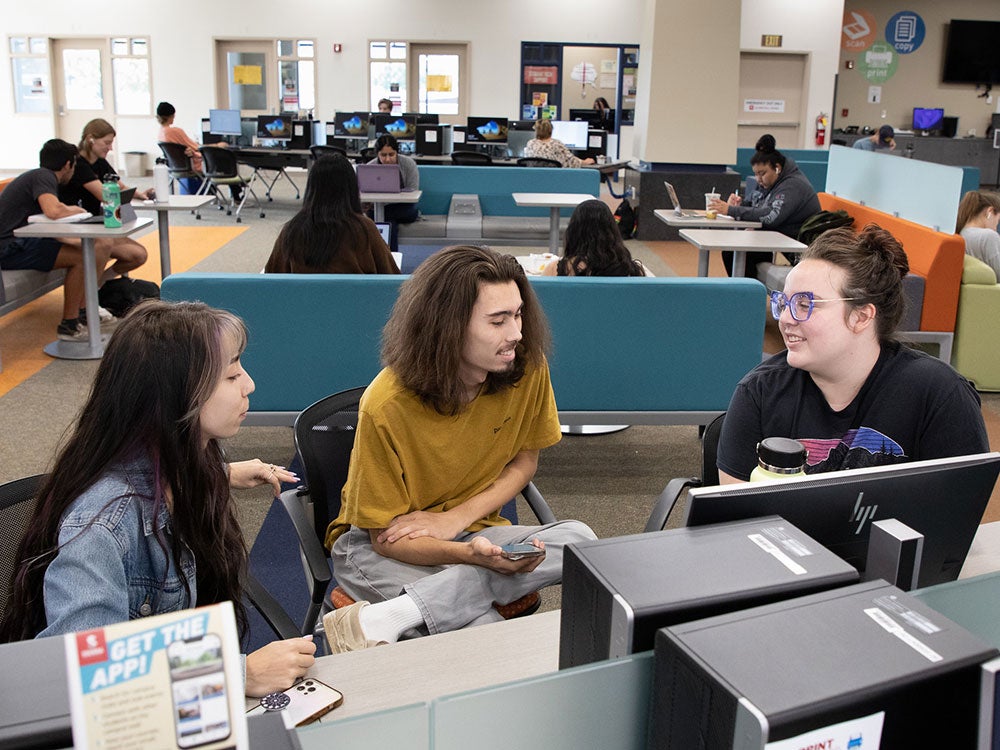 Log In Issues and Troubleshooting
Students needing access to Adobe applications, such as Creative Cloud apps, have the option to purchase the software for their personal devices or to use a remote lab connection to access this software installed on campus computers.
Purchase Option: Student discounts for this software are available through the College Buys website. Financial assistance may be available; please contact the Financial Aid office for voucher eligibility.
Remote Lab Option: Current students – please refer to the "Remote Computer Lab" section in the accordion further below.
SPECIAL NOTE: Adobe requires all users to have an "Adobe ID" to use their software applications. If you do not already have an Adobe ID, please use these instructions to create one using your PERSONAL email address. Please do NOT use your Sierra College email address as after you stop taking classes with us, you will not have access to reset any of your account settings/permissions with Adobe.
What is Canvas? Canvas is our learning management system (LMS). It's where you can participate in your classes online via a computer or mobile app.
Tech Tips

How-to Guides
Video Tutorial
Learn how to access Microsoft Office 365, an integrated experience, that includes access to Word, Excel, PowerPoint, MS office downloads, cloud file sharing, and more. These applications are updated monthly with the latest features and security updates.
Tech Tips
How to Guides
Video Tutorials
Microsoft 365
Microsoft Cloud Storage and One Drive
Rocklin Campus
The Learning Commons Computer Lab at the Rocklin campus is located on the second floor of the Library (LR building). The lab has more than 80 computers, including several iMacs, for student use.
View library hours
Printing machines available to students in the Learning Commons Lab (black and white prints only)
Nevada County Campus
The Learning Commons at the Nevada County Campus is located in the Library (N6 building). The lab has more than 35 computers, including some iMacs, for student use.
View library hours
Printing machines available to students in the Learning Commons Lab (black and white prints only)
Some classes at Sierra College require the use of Microsoft Office 365, Adobe Creative Cloud or other software. Most course-required software is installed on the computers in the Learning Commons labs.
If you have a Mac or Chromebook, you may not be able to access the version of software required for your classes.

If you are not able to come to campus to use our software, connect from home using the 

Access Campus Computers Remotely instructions.
While using the remote lab, please be aware of the following:
Each time you login to the remote lab, you will be connected to a remote computer at random. Please do not save your files to the remote computer. Use your OneDrive (see instructions in the Microsoft Office 365 accordion above) or Adobe Library to save files, or submit them directly to Canvas.
Microsoft Access database files do not save properly to cloud storage, like OneDrive. It is best to physically use a PC (non-Mac, non-Chromebook) for Microsoft Access.
To access your student email, you will need to have a method of Multifactor Authentication (MFA) on your account by using either an authenticator app or your phone number. You will not be able to access your Sierra College student email without one of these methods.
You can access your Sierra College student email a few ways:
Log in to mySierra and click on first link that is called "Check My Email" on the Home tab
Log in to Microsoft directly using your Sierra College login information
Add the Outlook app to your mobile phone, which you can download from your app/play store. Add your Sierra College email in this format: username@student.sierracollege.edu
Email Forwarding
We do not recommend forwarding your Sierra College email for a few reasons:
There is no guarantee that forwarded emails will be received by your personal email carrier; oftentimes they are blocked or the forward doesn't complete.
The official form of communication at Sierra College is via your student email as it is a more secure way of communicating with students.
If you reply to an email that was sent to your student account but forwarded to your personal email, replies can only be accepted via your student email, not your personal account.
Canvas Inbox
Canvas has another communication tool for you using the Inbox. There, you can send and receive messages from your instructor and classmates. Other Sierra College departments, such as Financial Aid, Counseling, Admissions, etc., will use your Sierra College email that you access through mySierra to communicate with you.
What is Zoom? It is a remote conferencing tool that Sierra College uses to conduct instruction remotely, as well as appointments with counselors and other support services.
Tech Tips
No audio? If you are having trouble connecting to the audio, call in to your Zoom meeting so your voice can be heard. Ask your instructor/counselor for the dial-in information to attend. You will need the phone number and meeting ID.
Slow internet? If your internet is slow at the time of your meeting, consider turning off your video for better results.
Use your phone. There is a Zoom app that works great for video conferencing, and you can use your mobile network or Wi-Fi connection.
Be sure to communicate with your instructor or counselor ahead of time if you do not have all equipment needed for your Zoom/ConferZoom session.
For more solutions to common issues, please visit the Zoom Help Center FAQ's.
How to Guides
Video Tutorial
What is a file type? A file type is a name given to a specific kind of file. For example, a Microsoft Word document (.doc, .docx) and an Adobe document (.pdf) are two different file types. While these file types are associated with individual applications, other file types, such as rich text RTF files and MP3 audio files are standard file types that can be opened by multiple programs.
Tech Tips
Back up your files. It is a great idea to back up your files to prevent losing your work
No scanner? Scan files by using your phone
Want to preserve your formatting? Please first verify that a PDF file is acceptable for your assignment, then review these steps to Save As or Create a PDF
Need to change the file type? Online Convert is a great Web app that lets you convert audio, video, images, and other kinds of files without installing software
Sierra College is not charging for pay-to-print during the Fall 2023 semester.
Students can print on campus in the Learning Commons Lab (black and white only).
Get in Touch
Rocklin
Building LRC, Room 220
Fall/Spring 7am – 6pm (M-F) and Summer 7am – 6pm (M-TR)