English as a Second Language (ESL)
We teach English to students from many countries and who speak many different languages. Classes are small, so you can communicate with your professors and other students. There are courses for students with basic to advanced skills, and some are tuition-free, non-credit courses.
Certificates in English as a Second Language
Put Your Mind to It
The program serves students who speak a large variety of languages and offers five levels of courses from novice to advanced college.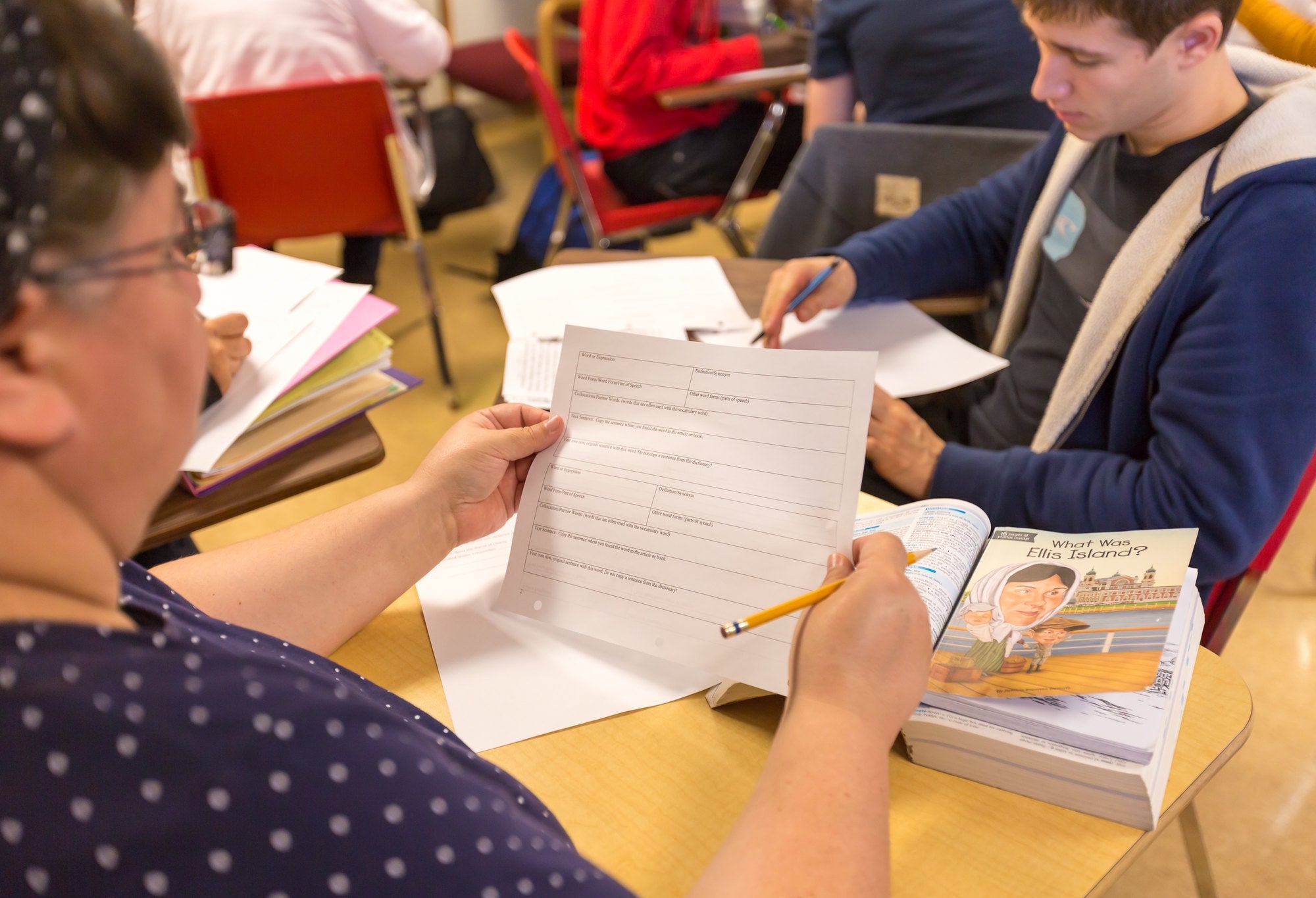 The ESL program prepares students to meet their language, educational, and career goals. In addition, students learn about American culture and experience college through events and workshops that help students feel connected to the college community. Erica Mercado, Support Specialist
ESL Program Overview
Which classes should I take?
This depends on your goals and how much time you have to study. Your class level will depend on how much experience you have reading, writing, and speaking in English. Talk to a counselor to decide which classes to take.
How do I earn an ESL certificate?
Students can earn ESL certificates at intermediate-high and advanced levels.
Students may not need to take all the classes. This will depend on the class level at which you begin.
Please meet with a counselor to discuss your certificate options.
What is the difference between noncredit and credit classwork?
Learn the differences between Noncredit and Credit Classes (available in English, Farsi, Chinese, Spanish and Russian translations). The following course numbers are non-credit and tuition-free: 800, 810, 812, 820, 822, 830, 832. View Class Level Chart.
Understanding the ESL Classes and Levels
View ESL Program Overview (available in English, Farsi, Chinese, Spanish and Russian translations).
Course Levels
We offer five levels of courses from novice to advanced.
The letter at the end of the course number refers to the type of skills you will be learning. For example, ESL 20C is a composition class.
C = Composition (Reading & Writing)
S = Skills for Success
O = Oral Skills (Listening & Speaking)
G = Grammar
P = Pronunciation
T = Technology
F = Film
ESL Course Level
Courses
Advanced
20C, 24P, 25C, 25G, 25L, 30C
Intermediate-High
530C, 530S, 530O, 532G

830C, 830S, 830O, 832G
Intermediate
520C, 520S, 520O, 522G, 522F, 522P, 522T

820C, 820S, 820O, 822G, 822F, 822P, 822T
Novice-High
510C, 510S, 510O, 512G, 512P, 512T

810C, 810S, 810O, 812G, 812P, 812T
Novice
800
Get In Touch
Rocklin
Building W, Room 107
Looking for something else?
With more than 50 programs in total, something is bound to align with your goals. Find out which one is the right fit for you.
English

Analyze literature and become an accomplished writer. Learn to hone your communication skills and unleash your imagination.

English

World Languages

Do you love speaking different languages? Take classes in either French, German, Italian or Japanese.

World Languages