Ridley Gallery
A Cultural, Educational Hub for the Region
Ridley Gallery complements and expands the educational environment of Sierra College and the community by featuring an exceptional range of arts programming.
The gallery exhibits high caliber work of leading regional, national, and international artists, as well as faculty artists, alumni, and students in seven shows throughout the academic year. Recurring annual exhibitions include the Hallberg Award Exhibition, the Holiday Show and Sale, and the Annual Juried Student Exhibition.
Located on the Rocklin campus of Sierra College, this 1000-square-foot gallery was dedicated in the spring of 1998. The gallery is named in memory of Robert Ridley, an art professor who long believed a college gallery would enrich the cultural experience and understanding of students through exposure to local and nationally recognized artists.
An advisory board and part-time director administer the Ridley Gallery and coordinate planning and exhibits. Student workers and Sierra College Patrons volunteers provide staffing during gallery hours.
Current Exhibit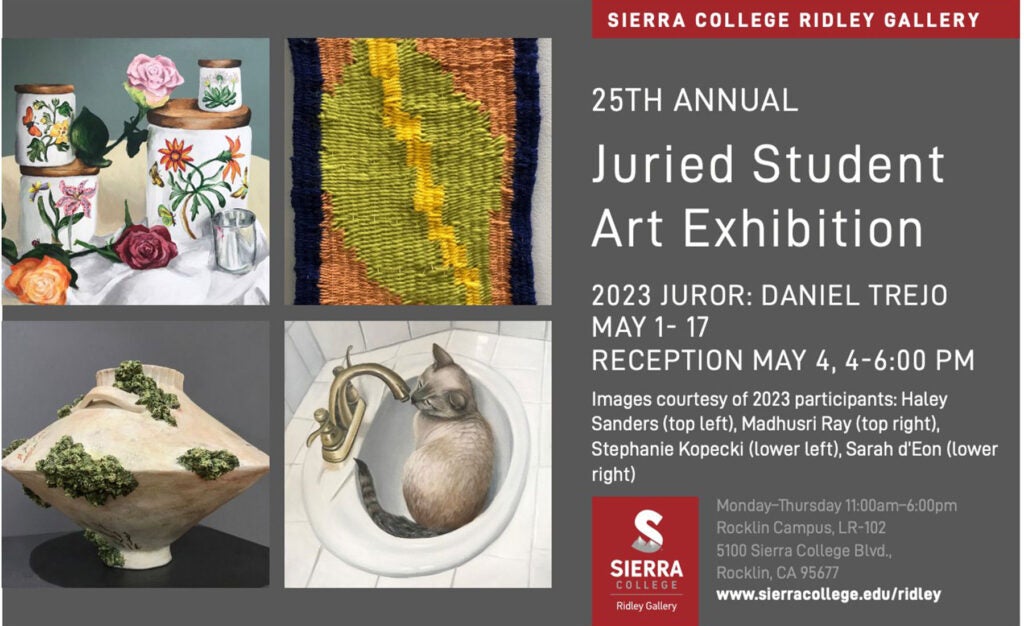 25th Annual Juried Student Art Exhibition, May 1 – 17
The Ridley Gallery is proud to present the 25th Annual Juried Student Art Exhibit. This year's exhibition was juried by Daniel Alejandro Trejo.
Trejo is an emerging Latinx artist who works in ceramic sculpture. He received his BA in Art Studio and Art History from University of California, Davis. He is an Artist in Residence at Verge Center for the arts, where he has taught ceramic classes as an educational associate. Trejo has exhibited his work in Los Angeles, Austin, Reno, Chicago and Mexico. Locally, he has had solo exhibitions at Panama Art Factory's gallery and Alpha Fired Arts gallery, located in Sacramento. In 2022 he curated the ceramic exhibition "No End in Sight" at Verge Center for Contemporary Arts, which was positively reviewed in Ceramics Monthly Magazine. He has also co-organized and curated Sacramento Zine Fest under Unibrow Collective, a Sacramento-based initiative.
Trejo has also been awarded Artist residencies at Cobertizo in Mexico and at the Watershed Center for the Ceramic Arts in Newcastle, Maine.
Awards Reception: Thursday, May 4, 4 – 6 pm. Please join us in celebrating the students who were selected for this exhibition.
Gallery Hours: Monday – Thursday, 11 am – 6 pm in LR-102 on Rocklin Campus
Get in Touch
Rocklin
Fall/Spring: M-Th, 11 am – 6 pm