Student Equity
We are committed to eliminating the equity gaps in all student populations with proactive, student-centered practices and policies that fully engage the college community. Learn more about how we're implementing policies and changing the landscape of higher education to fulfill our commitment. View our Student Equity Data.
Programs and Initiatives
Connecting classroom instruction and student services enhances student equity. Student Equity reports to the Vice President of Instruction and the Vice President of Student Services while working with the shared governance structure.
Individualized Support Programs, Support Services and Communities
Sierra College offers a wide range of support programs that provide individualized support for a variety of needs, as well as support services that meet the needs of specific communities. Learn more about about our support programs and services.
Current Initiatives
Acceleration in Math, English and ESL
Basic skills coordination
Visits to historically Black colleges and universities for students who wish to transfer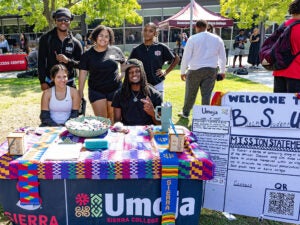 Educational Equity is predicated on the intentional educational atmosphere wherein all students are supported and empowered to succeed academically— precisely because they have been afforded rigorous and rich educational opportunities that equip them to work towards the realization of their full academic and human potential…

From the 2019-2022 student equity plan
Our Mission
Through various collaborative programs, initiatives, and services, the Division of Student Equity facilitates and promotes an equity-minded academic, cultural and social environment that contributes to the overall mission of the district in its commitment to academic excellence and student success.
Strategies for Success
Planning with the end in mind, Sierra College encourages you to begin your educational journey with career exploration and a success-focused first-year experience. Our goal is for you to earn a degree or certificate that leads to a fulfilling career trajectory.
The Division of Student Equity brings instructional and student service programs together to provide intentional high-touch support services that advance academic and career success for students.
The Student Equity Plan outlines college success from an equity lens. It recommends policy, procedure and resource changes. The Student Equity Plan also defines the effective implementation of programs and ensures that professional development opportunities are available and aligned with student equity outcomes.
Sierra College Students Speak Report
Sierra College is committed to closing equity gaps. The Sierra College Students Speak Report provides the college with an opportunity to self-reflect on our current structures and re-envision what we do to better meet the needs of our students.
…Equity exists when individuals at Sierra College (students and employees) have equal opportunity and sufficient resources to overcome structural barriers and achieve success. When equity is present, there is proportional participation of underrepresented and underserved populations at all levels of the institution.

From the 2019-2022 student equity plan
Professional Development and Training Resources
Classified and Management
General Research & Reading